Of course, we have to take a look back at what happened: Zero tournament series and 2nd world record attempt, app distribution "after Corona" - all that moved us and you in 2022. And of course we also look forward...
In short: It was an exciting year 2022, "post Corona", with many experiments, further developments and actions. Many good conversations, encounters and positive vibes! Many thanks to all users and friends :)
In long: Here are the four topics we want to tell you about:
Tournament Series No. Zero
In short: We learned a lot and will continue the rankings season by season.
Our dev team successfully installed leaderboards at the beginning of the year. Every planned tournament of a location will automatically flow into different rankings: into the local house ranking of the location, into the city ranking of all locations, into the regional rankings of all locations of a federal state, into the country ranking of all locations of a country and into the world ranking xD
A bit exaggerated maybe, but it's growing and we have some "power locations" that have used this feature intensively for their regular game and training rounds. The top 5, as of 7.12.:
the "Darts Billiards" in Vilnius, Lithuania with 66 ranked tournaments!

the "Clicks Billiards" in Tucson, USA with 61

the "Hochschulsportgemeinschaft Stralsund e.V." in Stralsund, Germany with 56

the "Classic Cue Billiards" in Depew, USA with 55

the "Wizard's Pinball Palace @ One Well Brewing" in Kalamazoo, USA with 27
We ended the season Zero with the rankings. In late September and mid-October, after some back and forth, we still had six wonderful regional finals. The participants had a great time and at the end the 2 winners each received a trophy, homemade and with the necessary "shine".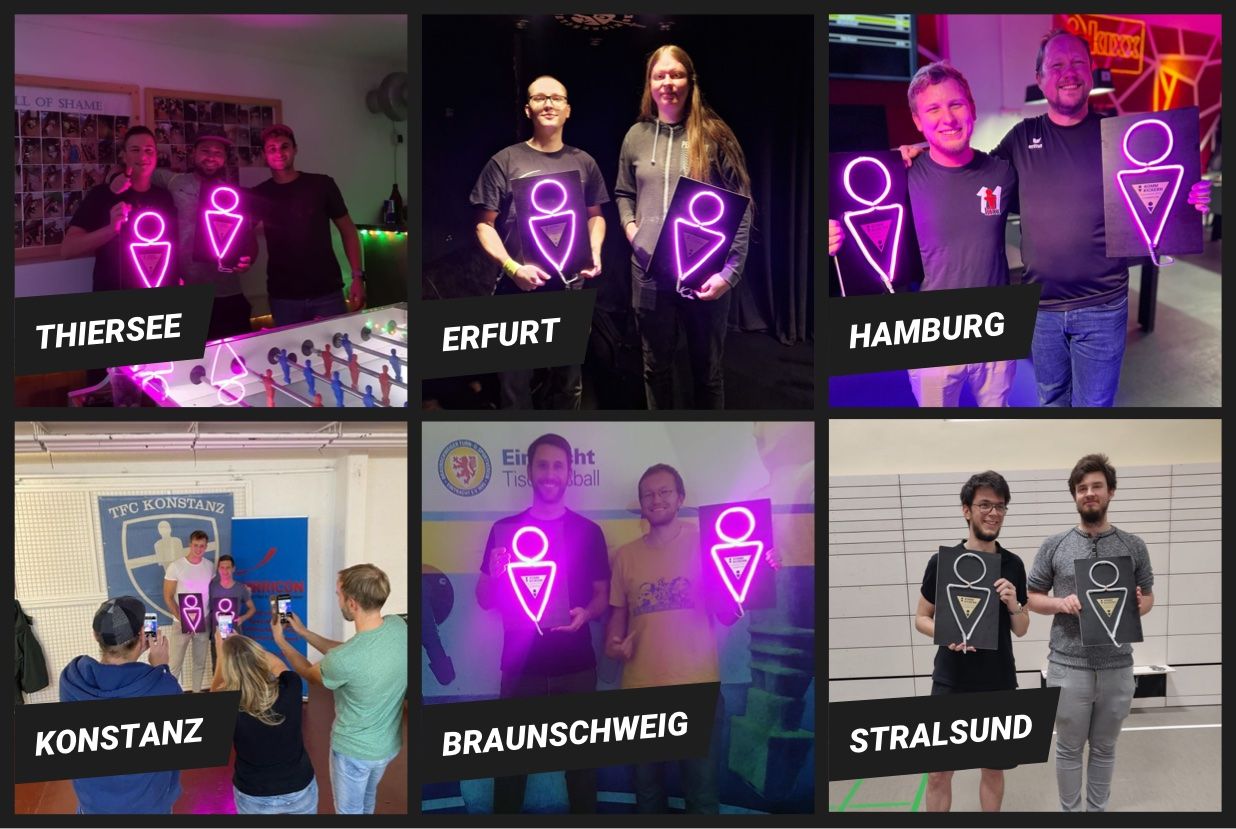 Our conclusion: It works! And above all with the guest function the desired simple start into the foosball sport. We will reset the rankings on 1.1. to ring in the new season 2023. You are all invited to become "admin" of a location, or to motivate the people in charge, so that tournaments for your house ranking can be planned and played. From our point of view optimal for the casual matches for youth-houses, companies and sport-homes and as training-mode in table soccer club-houses. And we are still looking for partners and sponsors to realize regional tournament series... Stay tuned!
World record attempt 2 remains attempt
In short: We didn't make it.
In long: We were so flashed and motivated by the 1st attempt and record in August 2021, with you and a total of 1905 participants, to just do it again. And it was again a great event, but in the end there were "only" 989 participants.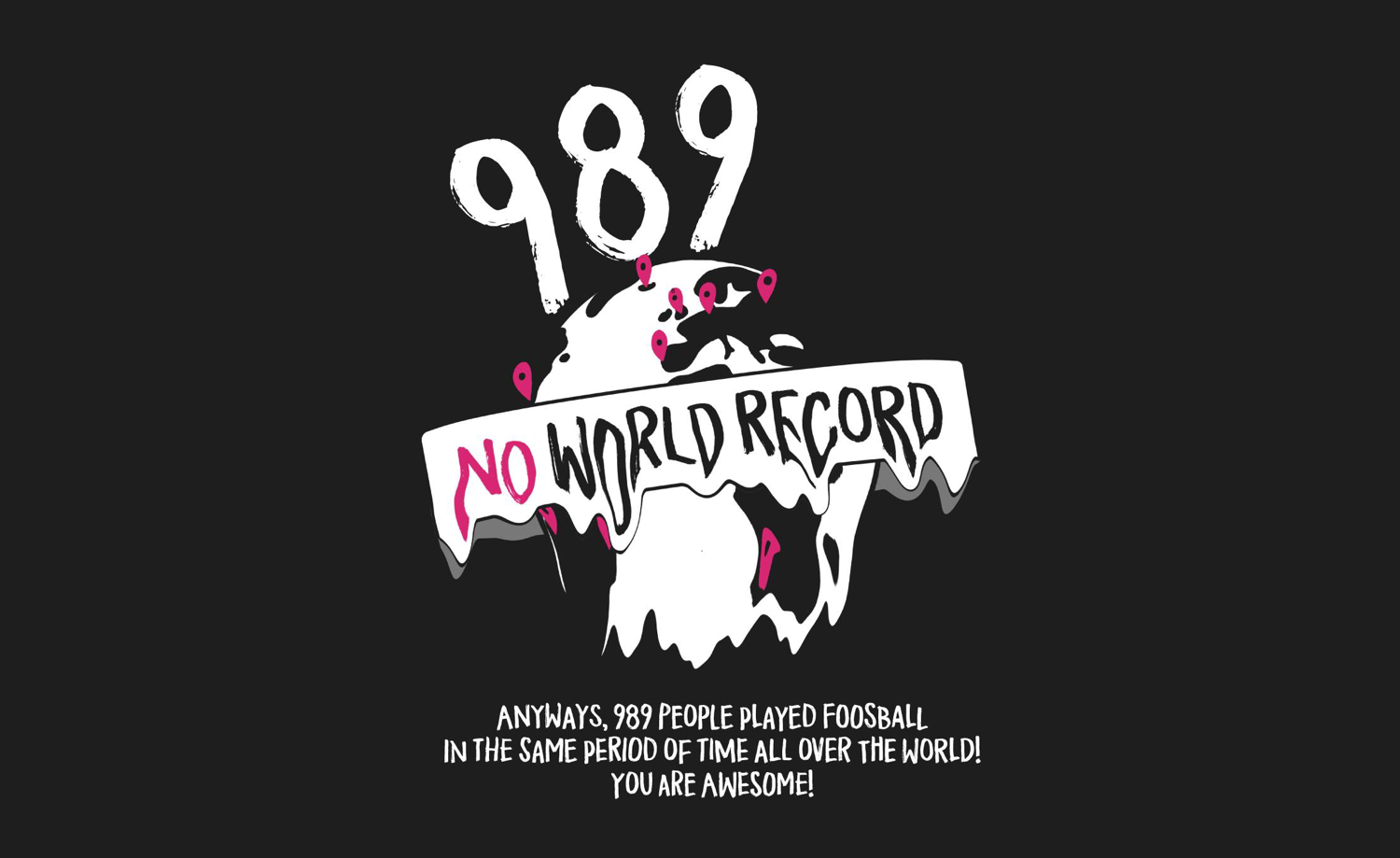 This time we couldn't advertise quite as much as e.g. with the van tour in 2021. So we had many new locations e.g. for the first time from South America, but also learned that many from 2021 could not be there, among other things because of scheduling conflicts, fortunately due to other tournaments. The focus at the first attempt and during Corona was probably greater and in 2021 youth houses and companies were still present on Friday.
Our conclusion: We firmly believe that we are even more as a kicker family, kicking in 24h worldwide at the same time. If necessary in other disciplines - not MonsterDYP - or complementary software. Therefore, we are already working on how to offer more modes and integrate other software so that guest players are also counted. Only in 2023 we will not try a world record attempt. Good things take time ;D
We let numbers speak
In short: It grows and thrives, thanks to you!
In long: This year we have almost doubled the user numbers and every day new users are added. The world record and SKC22, where the app was also used, show clear increases. When will we crack the 10.000 and who will get the Schnapszahlen T-Shirt 9.999?
The reason for this is probably the tournaments, which are now also increasingly played. You mainly use the app for the spontaneous tournaments in smaller circles, but the scheduled tournaments become a regular event in some locations.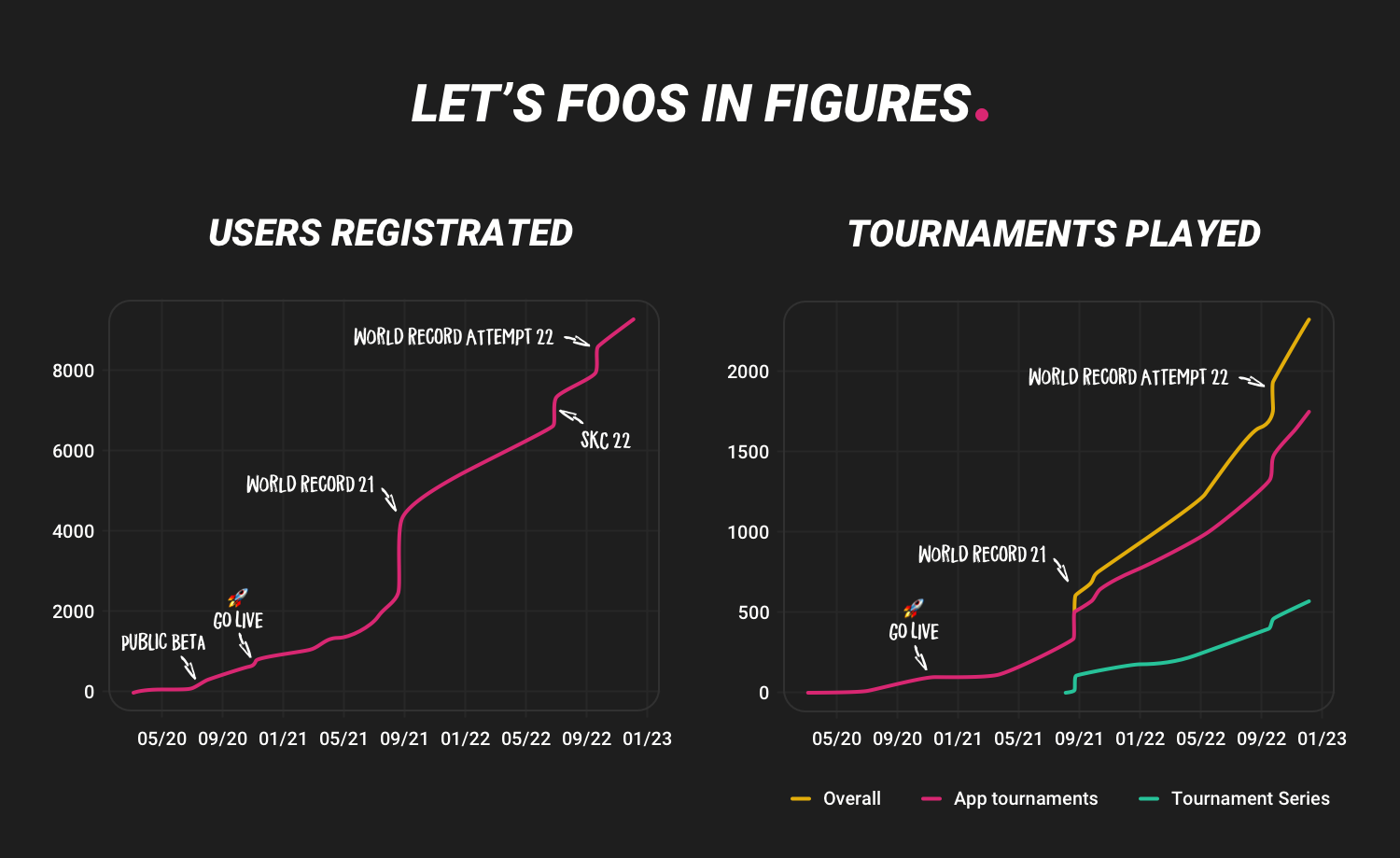 Anything else interesting? 60% of users have the app in German, 20% in English, and the rest in Russian, French, Vietnamese, Spanish, Italian, and so on. And your favorite day of the week for a tournament is Wednesday, closely followed by Friday and Saturday. But three times less is played on Sunday, Monday and Tuesday :D
Roadmap 2023
In short: Let's go on, and with you!
In long: We want to spread the app and win new players and sponsors for table soccer. We are looking for partners to motivate pubs and bars to set up the hobby sport there. And we are looking for partners who want to liven up the corporate life with networking events at the foosball table. Besides, we have some features on our list to make the app even more attractive in many aspects. More about that soon and be curious. With this we pursue our mission to make the sport of table soccer more visible in the hobby sector! And you are part of it: Ask us if you have questions or wishes, tell people about the sport of foosball and our free app to find locations and play casual MonsterDYP rounds in a group spontaneously, and feel free to use our admin functions (admin.komm-kickern.de) to plan ranked tournaments and get people to play and get together.
In this sense: Take care and one love :)